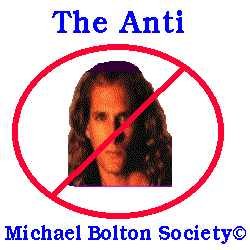 The Anti Michael Bolton Society
Hello,and welcome to the homepage of the Anti Michael Bolton Society®. Before you read any further,please read our DISCLAIMER. The A.M.B.S. is devoted to those individuals who,like us,find Michael Bolton's music,voice,hair,face,etc. horrible and disgusting!
We also find the fact that his screeching voice is featured on the Disney movie "Hercules" is despicable to all mankind!! Those poor innocent children who will have to suffer ear damage from listening to that guy scream and wail...it's very sad...
Those were just a few of the reasons that we formed this club. As the president,I intend to spread the word that Bolton's music is torture,and should be banned from all areas! If you want to know why I feel this way,then read My Complaint About Michael Bolton.
Listen to this WAV file I made...it is the official WAV of the A.M.B.S. and ALL members are expected to download it!! Click Here to get it!
Have you seen the movie The Blair Witch Project ? Well...we picked up some recent sound on Michael Bolton pretending to be the Blair Witch! Click here to listen to it!
I made a couple pictures of Bolton,sort of comic type things,Click Here To Get The First One! and the second one,is animated. Click Here To See It!
I also took the liberty of making a comic of HANSON! Click Here To Get It!!
To view comments from people who agree with us,Click Here. We also ask that you sign our guestbook. If you for some reason like Bolton,DO NOT sign our guestbook!!
---
Bolton Flash Animation!
Yes,after hours of frustrating work,I created a really funny flash animation about Bolton. I originally made this for Halloween,but heck,it's funny all year!! Click Here To See It!
Hate Mail We Have Received
I recently received some nasty hate mail about this page,so I've decided to make it public for all to read! I plan on displaying all the hate mail I receive from now on,so if you don't want your hate mail posted in here,DON'T WRITE ME ONE!! Now,on to the fun stuff....CLICK HERE TO READ THE HATE MAIL!

I also want to say that this web page is just for fun,and is not meant to offend anyone! If you can't take a joke,then go somewhere else!
---
Our Disclaimer
Before any of you get too upset over this web page,please read our Disclaimer.
---
Read About Bolton's Encounter with Paula Abdul!
This is a definite MUST READ...I don't want to spoil it,so Click here and check it out!
---
Exclusive Bolton Concert Review!
This is a MUST READ for all NON Bolton fans!! (aren't you glad I happen to have a scanner? *L*) This is the concert he gave with Wynonna Judd at the Coral Sky Ampitheatre in West Palm Beach,Florida on June 3,1998.

If you would like to join us in our fight,please contact me at the following address. AntiBolton@comports.com
---
The Current Members Of The A.M.B.S. Include The Following...
President: Spike The Psycho GirL®
Vice President: Cat
Public Relations Excecutive: Jonas
Excecutive Secratary: Lisa
Treasurer: Seaners
Bolton Basher: Jersey Girl
Bolton Basher: Marilyn
Bolton Basher: Skittles
Akira

---
Links to Other Anti Pages
The War On Michael Bolton

...I am very happy to say that I am not the only one with an anti Bolton page out there! This one is really good too!
Bolton's Contract...This page was sent to me by e-mail. I found it interesting to see how demanding that no-talent windbag is!
The Semi-Legendary I Hate Michael Bolton Page...A lovely anti bolton site made by a guy from Australia. Just remember,MY page was the very first anti Bolton site!
The Anti Marilyn Manson Society...I am also the president of this prestegious society.
Marilyn Manson is a Tool...That's not ALL he is! Check this page out!
Hootie and the Blowfish Suck...A nice well thought pout web page. hehe
Hootie and the Blowfish Hate Page...Another nice web page! Worth checking out.
Hanson sucks...a web page for anyone who's ever been annoyed by listening to "Mmmbop"...
I Hate Oasis...A nice page for anyone who can't stand those whining wussies called Oasis!
The No Yanni Organization...A page for anyone who can't stand Yanni! I personally think he resembles Dracula!
Yee Haw-The Official "I Hate Country Music" Page...A page for all the non rednecks out there!
Protest Against Rap...A nice web site! I agree the name should be changed to CRAP!
The NO CLOWN Zone...Ok,this has nothing to do with music,but I really HATE clowns!!
---
The Official Symbol Of The A.M.B.S.
The Symbol is found at the top of this page!
If you are a member of the A.M.B.S.,and have a web page,you are expected to have the symbol of the A.M.B.S. proudly displayed on your web site. Non-members who wish to show their support for us may also use this graphic to display on their web site. If you need the HTML code to cut and paste it into your page,then E Mail Me,and I'll send it to you.
---
Michael Bolton Lover of the Month
I decided to stop awarding this thing. It's too much bother to do it every month! Enjoy reading the list of winners anyway!
---
Past Winners Of The Bolton Lover Of The Month
Aquillus "August 1997"
Linda Gallo "September 1997","December 1997"
Wendi Bolton "October 1997","January 1998","December 1998"
Nikki "November 1997","February 1998"
Jason Lane,"March 1998"
Boppy,"April 1998"
Audun Langeland,"May 1998"
Mary Marken,"June 1998"
LOVEDRIVE,"July-August 1998","February 1999"
BOSS©,"September-October 1998"
Alicyn,"November 1998"
Splice2002@aol.com,"January 1999"
Fagsy,"March 1999"
DALLAS,"April 1999"

---

You're Michael Bolton Hater Number
Since This Page Was Created On June 21,1997 By President Spike®
Sign The GuestPAD
---
Past Guestbook Entries

This is worth looking at. I left the flames in there as well as the good comments! Book I Book II Book III
---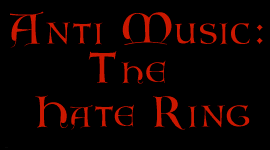 This Anti Music: The Hate Ring. site is owned by Spike The Psycho GirL®.

Click for the [ Next | Skip It | Next 5 | Prev | Random ]